Corner Life is Best Life: All About Sumikko Gurashi
Sumi-what now?
Sumikko Gurashi (すみっコぐらし) literally means "life in the corner". This super-cute group of critters are a little rag-tag bunch who find they're most comfortable in the corner, like in the corner seat at a restaurant.
Since their introduction by San-x in 2012, Sumikko Gurashi's popularity has absolutely exploded, and it's now one of the most popular character franchises in Japan. There have been collaborations between Sumikko Gurashi and all manner of brands and organizations, including Uniqlo, McDonald's, and even Hankyu and Nankai train companies!
There's no end to the Sumikko Gurashi themed stuff you can find these days. Plush dolls, stationery, clothing, accessories, video games, books, smartphone apps… There have even been two feature-length animated films released; Sumikko Gurashi The Movie – The Pop-up Book and the Secret Child in 2019 and Sumikko Gurashi The Movie: A Magical Child of the Blue Moonlit Night in 2021.
But who actually ARE the Sumikko? And Who are all their little friends?
Sumikko and Miniko – A Deep Dive
"Sumikko", while actually meaning "corner", also refers to the main 5 characters, while "Miniko" refers to the smaller side characters. (Because they're mini, get it?) Each Sumikko is paired with a Miniko, but outside of the main cast, there are a host of supporting characters, like a ghost that runs a cafe, a friendly mole, and even a real penguin. Let's take a look at the main 5 pairs!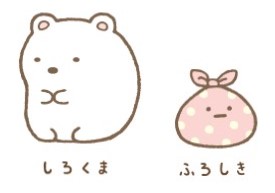 Shirokuma (しろくま) and Furoshiki (ふろしき)
Shirokuma is a shy polar bear who hates the cold! He fled the freezing north and came to the more comfortable weather of the Sumikko world. He loves nothing more than to sit in the corner with a warm cup of tea. Shirokuma's talent is drawing pictures.
Shirokuma's Miniko buddy is Furoshiki. In the real world, a furoshiki is a traditional square cloth used in Japan to carry any variety of things. In the Sumikko Gurashi world, Furoshiki was used by Shirokuma to carry his things when he came from the north, and has remained his faithful friend ever since! Shirokuma often uses her as a blanket.

Penguin? (ペンギン?) and Tapioca (たぴおか)
No, that's not a typo. This Sumikko's name is Penguin? with the question mark. He thinks he's a penguin, but really, he's not 100% sure. Try as he might, he can't seem to find a green penguin in any encyclopedias. He seems to remember having a plate on his head long ago, and his favorite food is cucumbers…..
For those of you who aren't familiar with Japanese folklore, the joke here is that Penguin? is actually a kappa, a mythical creature that wears a plate on its head and loves cucumbers. Kappas live in rivers, and if you're not careful, they'll steal your shirikodama right out of your butthole. No, really.
Penguin? can often be seen hanging out with the Tapioca Minikos, both the colorful and the black versions. Tapioca are the bubbles in bubble tea that didn't get sucked up with the tea and got left behind! They're mischievous little guys who like to draw where they shouldn't, and pretend to be other things, like tangerines!
Tonkatsu (とんかつ) and Ebifurai No Shippo (えびふらいのしっぽ)
Tonkatsu is the leftover end of a pork cutlet. He was left behind on the plate because he's 99% fat, and only 1% meat. The 1% meat portion is his nose! He struggles with an inferiority complex because he was left behind. He often covers himself in sauce or spicy mustard to try to be more appealing.
Tonkatsu's best friend is Ebufurai No Shippo, a fried shrimp tail who was also left behind on the plate! Because of their similar back stories, Tonkatsu and Ebfurai became best friends immediately.
Neko (ねこ) and Zassou (ざっそう)
Neko is a cat who's self-concious about his figure, since he thinks he's a little chubbier than other cats. He's easily embarrassed and likes to hide inside things like boxes and giant tuna cans. His favorite food is fish, and he also likes to nibble on cat grass.
Zassou is a little clump of grass who dreams of someday being used in a bouquet at a flower shop. Neko often waters Zassou, in hopes he'll sprout a flower. Sometimes, when Neko is sleepy after waking up, he'll nibble on Zassou, mistaking him for cat grass!
Tokage (とかげ) and Nisetsumuri (にせつむり)
In another case of mistaken identity, Tokage (which means "lizard" in Japanese) is actually a baby dinosaur who became separated from his mother. Tokage actually wasn't originally featured in Sumikko Gurashi, and was introduced after 3 years. Tokage loves fish, so he gets along well with Neko, and loves to swim.
Nisetsumuri (a combination of "nise" meaning "fake" and "katatsumuri" meaning "snail") is actually a slug pretending to be a snail by wearing a shell. Since they're both pretending to be something they're not, Nisetsumuri and Tokage are best friends. Nisetsumuri often wears things that aren't his shell, including a backpack, Furoshiki, and even the Tapiocas!
My Personal Favorite Series
I, personally, am a huge fan of Sumikko Gurashi. My phone case has been Sumikko-themed for years, and I've got a fair collection of Sumikko-themed stationery, too!
To date, there have been 59 different themed series of Sumikko Gurashi goods, with the most recent being "Shirokuma's Home Cafe", releasing in December of 2022. Out of those 59, I've narrowed it down to my personal favorite 3 series!
3. Sumikko Bento (すみっコ弁当)
In this series, the Sumikko gang decides to have a picnic! They all work together to make delicious bento boxes with onigiri, octopus hot dogs, cucumbers, rolled omelets, and more! There's even a special appearance by their friend Mogura the mole.
This series is just such a sweet little vignette that reminds me of the little picnics I used to have with my family as a kid, and seeing the Sumikko and Miniko all working together is just so wholesome. The message Tonkatsu and Ebifurai can be seen touting at the end of the video is to "stop food waste" and "eat without leaving anything behind". Given their backstories, they're the perfect characters to champion this cause. (Stopping food waste is a common concept in Japan known as mottainai.)
Merch from this series can be a little hard to find, since googling すみっコ弁当 will generally give you Sumikko-themed bento boxes, but if you keep scrolling, you'll find it! My favorite piece of merch from this series is this notebook featuring the main scene, which I actually own!
2. Rabbit's Wonderland Garden (ふしぎなうさぎのおにわ)
One day, while walking in the forest, Shirokuma falls in a hole! Penguin? pulls Shirokuma out by his ears, but this stretches his ears out, so he ends up looking like a rabbit. Just then, 3 small rabbits appear and lead the Sumikko to their wonderland garden party!
This series is so sweet it gave me cavities in every single one of my teeth. All the Sumikko dressed up as bunnies with flower crowns killed me in one hit. Seeing the little bunnies hop around with the Tapioca is especially squee-inducing! Seriously, it's too cute, take them all to jail.
Merch from this series is much easier to find, and there's a lot of it! My favorite item from this series is this zipper pouch in the shape of the Rabbit Meister!
1. Sumikko and Umikko (すみっコとうみっコ)
One day, while searching for a green penguin like himself, Penguin? goes to the ocean with the rest of the Sumikko. There, they meet the Umikko ("Umi" meaning "ocean" and "kko" being both a play on Sumikko, and also meaning "child" or "small thing"). The Umikko include a clownfish, a sea turtle, a puffer fish, various jellyfish, a seagull, a starfish, and a starfish? who looks suspiciously like a real star…… Even the real Penguin makes an appearance!
This series is my top personal favorite because of all the new friends the Sumikko meet! I love the ocean and all its critters, so of course this series would be a hit with me. Out of the Umikko, my favorite is the pufferfish. His little puffy-cheeked face is too cute to handle!
Most of the merch for this series are plush dolls, but my pick for this series are these two sets of handy-dandy wooden chip clips, featuring the Sumikko dressed up as sea creatures.
Need Some Sumikko in Your Life?
There's so much more Sumikko Gurashi content than I could ever cover in one blog article, so be sure to check out the Official Sumikko Gurashi Website, the Sumikko Gurashi Playlist on San-x's Youtube Channel, and the Official Sumikko Gurashi Net Shop!
Leave a comment letting me know who your favorite Sumikko or Miniko is!
Feel free to submit an order for any of the products featured here (or anything else) via our Request Form.
Not sure how to use our Request Form? Check out our Tutorial Article!
Have a question or comment? Shoot us an e-mail at contact@dejapan.com, or leave a comment below! We'd love to hear from you.