Rev Up Those Chainsaws! It's Time for a Pochita Merch Roundup!
What's a Pochita?
He's little.
He's round.
He has a chainsaw sticking out of his face.

He's Pochita.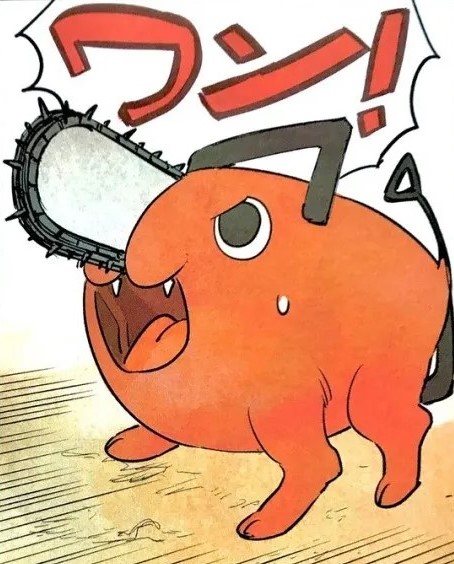 Pochita is the adorable orange mascot of Tatsuki Fujimoto's manga series turned anime, Chainsaw Man. He's part dog, part chainsaw, and part devil, but all cute. He makes a contract with the protagonist, Denji, to save his own life in exchange for becoming Denji's weapon and devil-hunting partner.
(Side note: what is it with cute supernatural creatures making dubious contracts with Japanese teenagers? We're looking at you, Kyubey.)
While Denji is the protagonist of the story, he hasn't quite captured our hearts the way Pochita has. Pochita is caring and kind, despite being a devil. Who wouldn't want this little guy as a companion?!
To celebrate the debut of the brand-new Chainsaw Man anime series that premiered on October 11th, 2022, we're counting down the top 5 best pieces of Pochita merch, all of which you can order via DEJAPAN!
Item #5 – Pochita Umbrella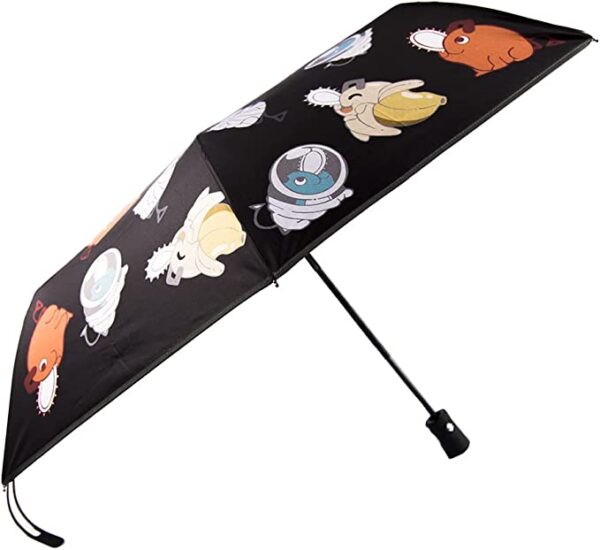 First up is a Pochita-covered umbrella by Maxers. It's foldable and lightweight, measuring only 28cm long when folded, and weighs about 400g. It features several adorable drawings of Pochita in various forms, including as a mummy, an astronaut, and even a banana!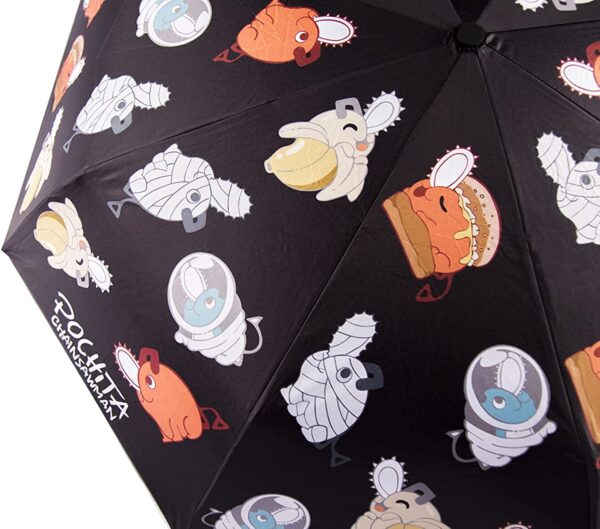 Maxers boasts an ultra-waterproof design, and even includes reflective material around the outer edge of the umbrella, ensuring you'll be visible to others on even the rainiest days.
Check out the Pochita Umbrella on Amazon for under 3,000 JPY!
Item #4 – Pochita Cat Costume
Do you have a cat? Not anymore. Now you have a Pochita.
Sure, it won't give your cat magical devil powers, but it is a great Halloween costume, or just a fun way to humiliate your cat for your own amusement!
The costume is a cape with an attached hood, so there's no need to worry about trying to get your cat (or small dog) to put their legs through any leg holes. Just do the velcro strap around the neck and enjoy your new pet chainsaw devil!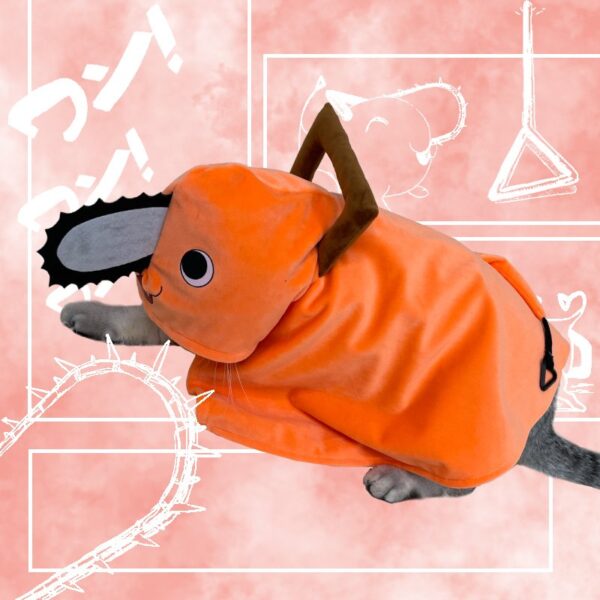 The Pochita Cat Costume will cost you 2,950 JPY from Yahoo! Shopping.
Item #3 – Big Pochita Plushie
Ok, so not everyone has an unsuspecting pet to dress up like Pochita. For those of you who don't, we have a solution!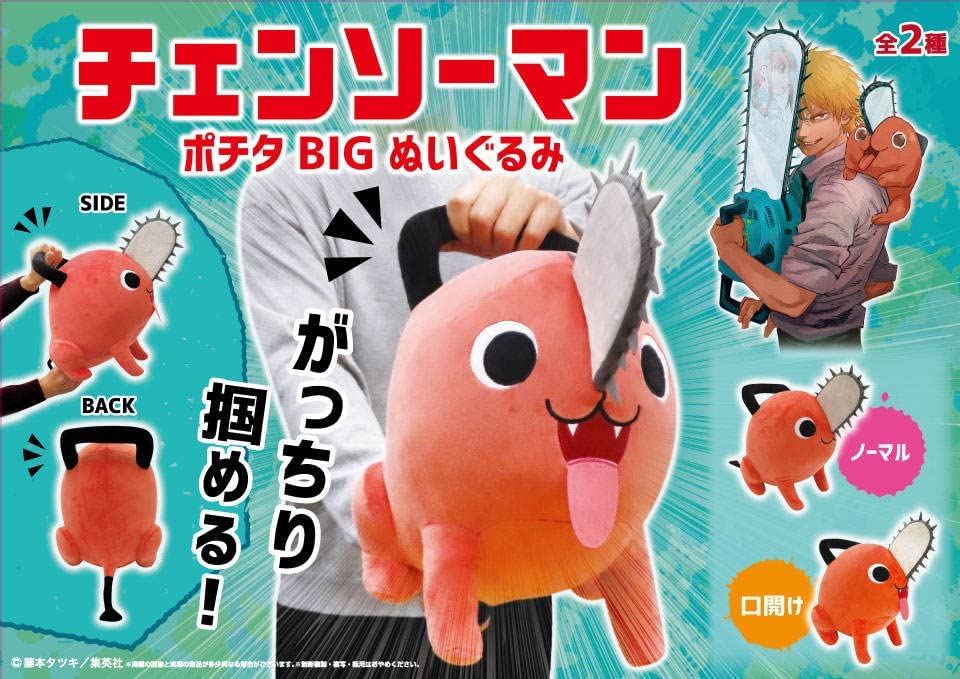 Your very own huggable, squishable Pochita plushie! There are two versions of this plushie, one with a closed mouth and the other with an open mouth and tongue hanging out. Each plushie stands about 32cm tall, meaning they're just about life-size!
Check out the Big Pochita Plush (Mouth Closed ver.) and the Big Pochita Plush (Mouth Open ver.) on Amazon! Both versions are less than 10,000 JPY each.
Item #2 – SPY×FAMILY Anya & Pochita Crossover Figure
Up next on our countdown is part of a crossover collaboration between Chainsaw Man and Spy x Family.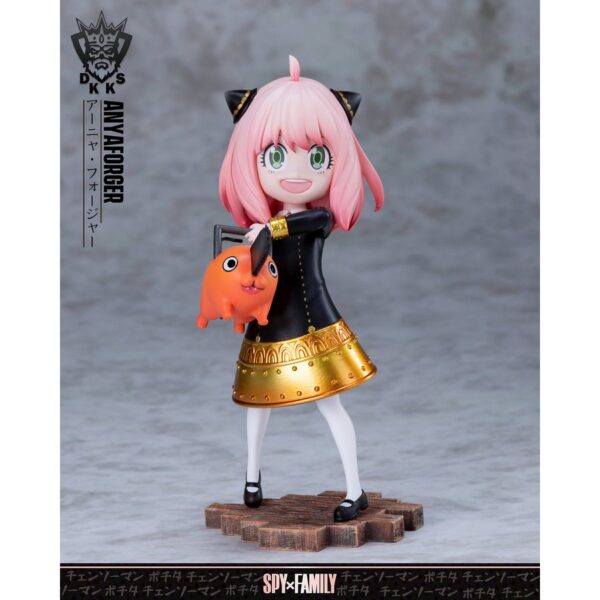 This figure combines the two cutest characters from both series into one adorable (and, let's be real, terrifying) scene, with Anya happily wielding Pochita against her enemies. We bet Yor would love to take a turn with Pochita, too!
This figure stands 15cm tall, and includes an additional face plate, featuring Anya's classic "heh" expression.
Preorders for the Anya and Pochita Figure are open now on Amazon for 35,000 JPY.
The expected shipping date is August 31st, 2023.
Item #1 – Life-Size Pochita Figure
Last, but certainly not least, the Pochita to end all Pochitas!
This figure is a life-size replica of Pochita, measuring up at about 34 cm tall. Here's an oddly amusing graphic showing how big he is:
He features poseable legs and tail, and high-quality manufacturing, so he's cute from every angle! Don't you just want to pick him right up and murder monstrous creatures with him? … No? Just me?
This Life-Size Pochita Figure is available for pre-order now for 25,300 JPY, but the pre-order period ends on October 31st at 23:59 JST, so get your orders in now!
We're also limited to order 3 pieces total, so it's first-come, first-serve!
The figures are expected to ship out in July of 2023, but it looks like it will be well worth the wait!
What's Next for Chainsaw Man?
The Chainsaw Man anime is set to air on Tuesday night (JST) each week, for a total run of 12 episodes. Apparently, each episode will feature its own unique ending theme.
With the premier of the anime, the merch situation is bound to explode, both for Pochita merch and the other characters. F:NEX already has two other pre-orders open for a Makima figure and a Power figure.
Animate has pre-orders open for plush dolls of various characters, including Aki, Pochita, and Makima, as well as pre-orders for keychains and Figutto figures.
Keep your eyes peeled for more goodies in the coming days and weeks!
In Conclusion…
Decided you need some Pochita in your life? Feel free to submit an order for any of the products featured here (or anything else) via our Request Form.
Not sure how to use our Request Form? Check out our Tutorial Article!
Have a question or comment? Shoot us an e-mail at contact@dejapan.com, or leave a comment below! We'd love to hear from you.