Japan's Coolest Reality-Bridging Rock Band: Roselia
What's Roselia?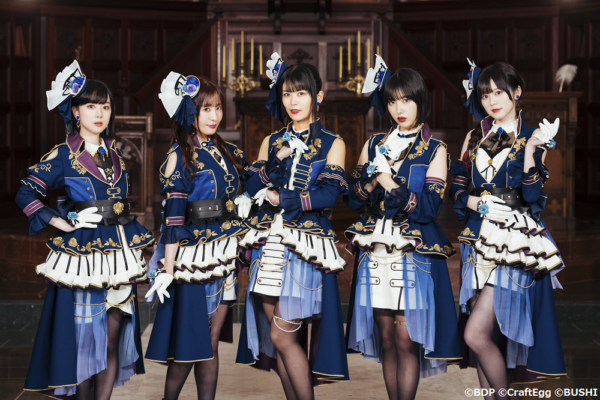 Roselia is an all-female rock and symphonic metal band, formed in 2016, that bridges the gap between the real world and the anime world of BanG Dream!. Out of the 7 bands included in BanG Dream!, Roselia is one of the 4 in which the voice actors perform their own music in concert.
The five members wear extravagant gothic-styled costumes, often featuring their motif of a blue rose, both in-game and in real life. Blue roses are impossible to grow naturally, so for Roselia, the motif represents their goals of "achieving the impossible".
Without further ado, let's take a closer look at each of the 5 members of Roselia!
Vocals – 湊 友希那 (Yukina Minato)
In-game, Yukina is the daughter of a professional singer, which is why she began singing in the first place. She is fiercely ambitious, and wants Roselia and all its members to become the absolute best they can be. 
Yukina can be described as passionate, but cold-blooded and perfectionistic, which can lead to friction between her and other characters. Underneath the cool exterior, she has a softer inside. She secretly LOVES cats, but won't admit to it if you ask her about it.
Yukina's voice actress, Aina Aiba, was born in Hokkaido, but raised in Osaka. She was actually a professional wrestler under the name Yuuki Harima before becoming a voice actress! Other characters she's voiced include Iwatobi Penguin from Kemono Friends and Tokoha Anjou from Cardfight!! Vanguard.
Lead Guitar – 氷川 紗夜 (Sayo Hikawa)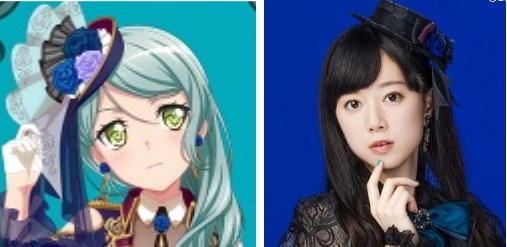 Sayo has a younger twin sister named Hina, who's the lead guitarist for Pastel*Palettes, another BanG Dream! band. Sayo has a major inferiority complex about her younger twin, who's always seemed to outshine her in everything they do.
Sayo is very serious in everything she does, and is perfectionistic like Yukina. She can be cold, even to those she's close to, but begins to soften up as the game's story progresses, revealing a love of junk food.
Born and raised in Osaka, Sayo's voice actress Haruka Kudo is actually best known in Japan as the voice of Hagumi Hanamoto in Honey and Clover. Before her career as a voice actress, she was a model for the magazine Seventeen Japan.
Bass – 今井 リサ (Lisa Imai)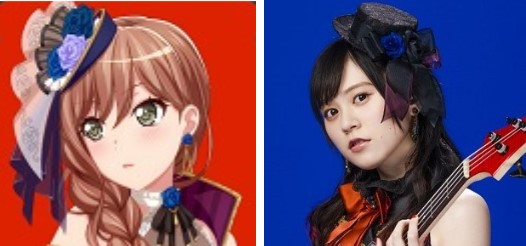 Lisa is Yukina's best friend and next-door neighbor. Compared to Yukina and Sayo, Lisa is much warmer and friendlier. She acts as the glue that holds the band together at times, taking on the role of mediator when things get tense.
Lisa is very careful about her image, being a devout follower of gyaru fashion. She even hides her love of knitting, as she thinks it doesn't mesh with her cool, mature vibe. Before joining Roselia, she used to always have a set of acrylic nails, but she gave them up so she could devote herself to playing the bass.
Lisa's voice actress, Yuki Nakashima, was born and raised in Wakayama. She learned to play the bass in junior high school, as part of a jazz music club. She also voices Yuuki Otokura in The Idolmaster Cinderella Girls.
Drums – 宇田川 あこ (Ako Udagawa)
Unlike the other girls, who are third-year students, Ako is a first-year student. Despite being the youngest, she's also arguably one of the most naturally talented of the group, even though she can't read sheet music well. She's treated like the band's collective little sister, due to her childlike looks and personality.
Ako can be a bit of a weirdo, having chuunibyou tendencies, potentially stemming from her interest in playing online games with her best friend, Rinko. During the story, Ako struggles with feeling inadequate compared to her bandmates, but eventually becomes more confident in herself.
Ako's voice actor, Megu Sakuragawa is from Ibaraki, and is a singer as well as a drummer. She's also known for voicing Tsubasa Kira from Love Live!.
Keyboard – 白金 燐子 (Rinko Shirokane)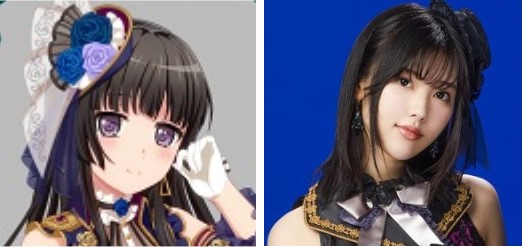 Rinko has played the piano since she was 5 years old, netting her multiple contest wins along the way. Unfortunately, a major mistake during one competition led her to develop terrible stage fright.
She's best friends with Ako, despite the age difference between them, and they often play online games together. Rinko is a bit awkward and shy, and sometimes refuses to speak in front of others. Once she has her heart set on doing something, however, she's unstoppable.
Rinko's voice actor, Kanon Shizaki, was born and raised in Tokyo, and attended the Senzoku Gakuen college of Music. She also played in a band at Syracuse University in the US as part of a foreign exchange program. She's also known as the voice of Rei Togetsu from D4DJ.
What's Roselia Up To?
Over their 6 years as a band, Roselia has released 34 original songs, 11 singles, and participated in 21 albums, 6 of which are live albums.
Roselia's Iconic Song「R」Reaches 7 Million + Views on YouTube
First released in 2018, Roselia's most iconic single "R" is a heart-pounding experience! I don't even exercise, but I can see myself running a marathon to this song. The band performed the song live in concert on February 21st, 2019 at TOKYO MX presents「BanG Dream! 7th☆LIVE」DAY1:Roselia 「Hitze」, and the video of the performance was posted to Youtube later that same year. The video became a hit almost instantly, and now has over 7 million views! Check it out for yourself!
COUNTDOWN JAPAN 22/23 Live Performance – 12.30 FRI
COUNTDOWN JAPAN is a massive, multi-day Rock Festival held every year surrounding New Year's Eve in Japan. It's one of the biggest music events in Japan, and generates massive hype year after year. It's so popular that tickets have to be bought via a lottery system!
This year, Roselia is slated to perform on Friday, December 30th, along with some massively popular artists such as Ado and ヤバイTシャツ屋さん. Check out the full lineup here!
Enough Talk, Let's Get Our Hands on Some Merch!
Looking for the best way to show off your best girl? Look no further! We've rounded up some of the best Roselia merch, just for you!
BanG Dream! 10th☆LIVE DAY1:Roselia「Sonnenschein」Acrylic Stands
Acrylic character stands are a great way to give your space a little pop of anime flair with your favorite character! These Roselia acrylic stands feature the band members in their costumes from their performance at the BanG Dream! 10th☆LIVE. Standing about 15cm tall, they're the perfect size to display on your desk at home or at work!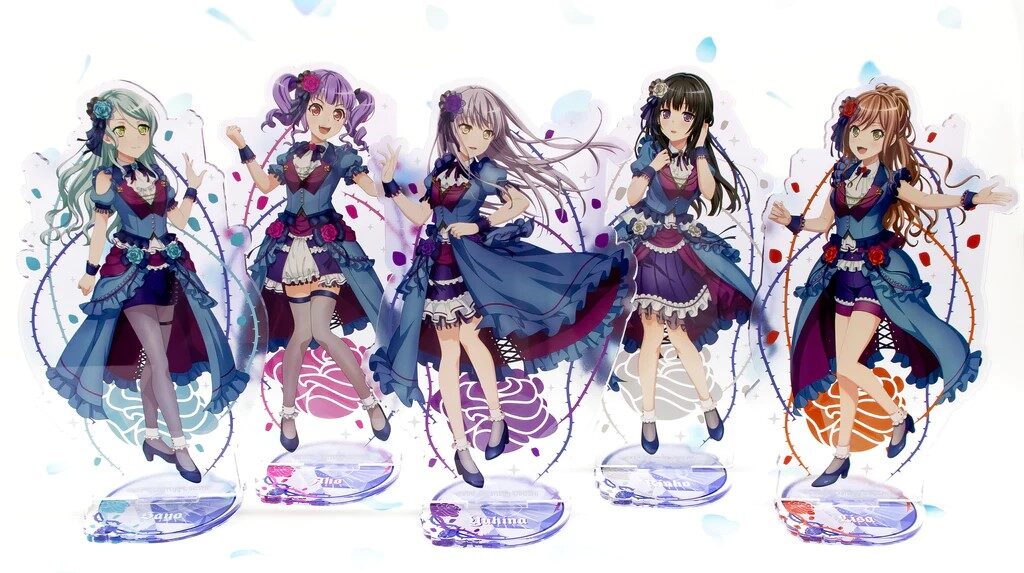 You can find the acrylic stands for sale on Bushiroad's official store.
Themed Rings
Want a slightly more subtle way to support your favorite character? These themed rings range in size from No. 7 up to No. 21, and are made of sterling silver, with a carved rose motif. The rings each also feature a rhinestone matching each individual character's thematic color, and the character's name engraved on the inside.
You can find these rings for sale on Animate. (Please note that we linked to the size No. 13 rings, but the other sizes are listed separately on the site under their own URLs.)
Swear -Night & Day- Limited Three-Disc Set
Maybe you're just a die-hard fan of Roselia's music. We've got you covered! This special edition of Roselia's 12th single includes 3 discs, one of which contains both days of Roselia's May 2022 live performance 「Episode of Roselia」.
This version is a limited edition, so don't miss out! Check it out now on HMV!
Let's Achieve the Impossible Together!
Roselia's popularity continues to grow on a daily basis, and their upcoming performance on COUNTDOWN JAPAN is sure to put them in the spotlight! We can't wait to see them succeed!
Feel free to submit an order for any of the products featured here (or anything else) via our Request Form.
Not sure how to use our Request Form? Check out our Tutorial Article!
Have a question or comment? Shoot us an e-mail at contact@dejapan.com, or leave a comment below! We'd love to hear from you.