5 Things You Need to Create A Japanese New Year Style Diorama for Your Favorite Nendoroids!
2022 is quickly coming to an end, and people all over the world are gearing up to welcome the New Year. New Year's celebrations vary widely between cultures, and Japan's traditions are particularly unique. Why not recreate a traditional Japanese New Year's celebration with your favorite Nendoroids? It's like making your own New Year's episode of your favorite anime or game!
Here are some great examples from Twitter!
But where to start? We've got you covered! Here are 5 things you need to enjoy the Japanese New Year with your Nendoroid buddies!
1. Nendoroid Doll Body
First off, even if you have Nendoroids already, if you want to make your own custom scene, you'll need to make them into Nendoroid Dolls! Nendoroid Dolls feature bodies with articulated joints and removable clothing, so you can dress your favorite characters however you want! The head and hand parts are interchangeable with normal Nendoroids, so you don't have to worry about compatibility!
Don't forget you also might need to get the Nendoroid Doll Easel Stand to help prop up your Nendoroid, depending on the scene you're trying to make!
2. Costumes
Once you've got your Nendoroid ready, they'll need a special New Year's outfit! During the first shrine visit of the new year, called 初詣 (hatsumōde), some Japanese people opt to wear kimonos, while others dress in their usual winter clothing.
If you want to go for a more traditional vibe for your New Years scene, you might try the designer いおりん工房 on Minne, or くまちゃん on Rakuma! For a wide variety of more general Nendoroid doll clothes, check out Moko's Boutique on Booth!
These are only a few of the great Nendoroid Doll clothes designers out there, so if you want to try searching for yourself, you might try searching "ねんどろいどドール服"!
3. Backgrounds
Now that your Nendoroids are dressed and ready, it's time to set the scene! The easiest way to do that is with a fun background! The Dioramansion series has a huge variety of diorama backgrounds, in 150 cm and 200 cm sizes!
Here are a few that are perfect for a New Year's celebration scene!
4. Props
For any Japanese New Year's celebration worth its salt, there are a few items your Nendoroids will absolutely need!
Kadomatsu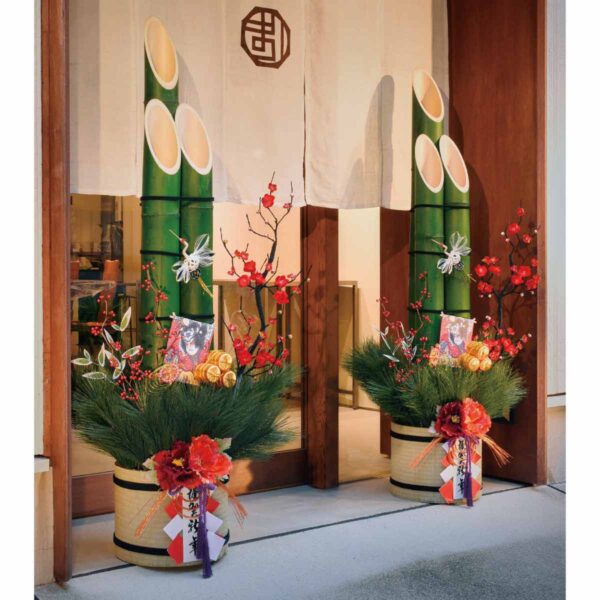 門松 (kadomatsu) are a type of New Year's decoration, usually seen in pairs in front of buildings, near the main entrance. They are generally made of 3 bamboo shoots and decorated with things like pine branches, Japanese folding fans, and plum blossoms. They are believed to welcome the new year's god into the building where the ornaments are placed.
Here are a couple examples of miniature kadomatsu:
Kagami Mochi
鏡餅 (kagami mochi) is a New Year's decoration made from two pieces of rice cake stacked on top of each other, topped with a mandarin orange. It is believed to bring good luck and happiness.
Here are a couple examples of miniature kagami mochi:
Osechi
おせち (osechi) is a Japanese New Year meal with various small dishes nicely placed in a box called 重箱 (jūbako). Each ingredient has a meaning – for example, the black beans are a wish for good health and sweet chestnut paste is a wish for wealth.
Here are a few examples of osechi for your Nendoroids to chow down on:
Torii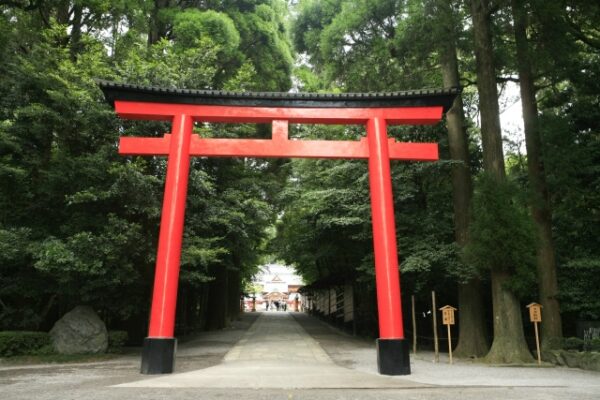 鳥居 (torii) are traditional Japanese gates, usually found at the entrance of Shinto shrines. They represent the border between the human world where we live and the sacred area where the gods live. Torii are an absolute must if you want your Nendoroids to visit a shrine!
Here are a couple examples of miniature torii gates:
Kotatsu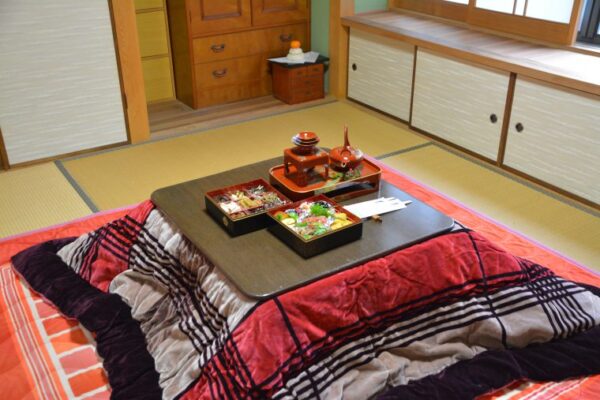 こたつ (kotatsu) don't actually have anything to do with New Year's directly, but they're the centerpiece of any Japanese living room in winter! Kotatsu are essentially a low table with a heater underneath, and a blanket that keeps the heat in. With just this piece of furniture, you can create an instantly recognizable winter scene!
Here are a couple mini kotatsus to keep your Nendoroids warm:
5. All-in-One Set
Creating a traditional Japanese room from scratch is hard, especially if you don't live in Japan. Even if you know all the pieces you need, there's so many things to get – tatami, shōji, とtokonoma, kakejiku, and so on.
An easy time-saving solution is to get an all-in-one set with both a background and a variety of props!
The Good Smile Company has come out with a few sets that are well-suited for a New Year's scene. The A and B parts can be combined for an even larger scene!
You can also reuse many of the props and backgrounds for another scene after the New Year, like a typical day in Japan, a summer festival scene, or a shrine visit!
Akemashite Omedetou! (Happy New Year!)
Now you're ready to ring in the New Year with your favorite Nendoroids!
Many of the anime/game characters have a Japanese origin, so it would be nice to have your dolls enjoy the New Year in their style. Be sure to tag us on Twitter @DEJAPAN_Global if you post your Nendo New Year's pics!
Ready to get your dolls what they need?
Feel free to submit an order for any of the products featured here (or anything else) via our Request Form.
Not sure how to use our Request Form? Check out our Tutorial Article!
Have a question or comment? Shoot us an email at contact@dejapan.com, or leave a comment below! We'd love to hear from you.