Get Your Hands on Japanese Handmade Goods With Creema!
Around the world, Japanese products have a reputation for being high quality, and for good reason! For hundreds of years, Japanese craftspeople have prided themselves on producing only the finest work, and always striving to perfect their craft. (Looking at you, glorious Nippon steel meme) This quality hasn't been lost over the years, and even today, handmade Japanese goods are some of the best out there.
It's important to support small businesses, individual artists, and craftspeople when we can, now more than ever. But how do you find them when they're halfway across the world? That's where Creema comes in! Creema provides a platform for Japanese artisans to sell their work online, helping them compete against big businesses.
In this article, we'll go more in depth about what Creema is, some of its most useful features, and mention a few of our own favorite creators you can find on Creema!
So What IS Creema?
The word "Creema" is a combination of the words "creators" and "market", and is just what it sounds like! It's a Japanese online marketplace for creators of handmade goods. Their motto is "Let's create a fair world where the really good stuff doesn't get buried."
Creema covers all genres and categories of items, from accessories and jewelry to home goods and stationery. There's also a wide range of styles, from cutesy and funny to classy and demure. You want it, Creema's got it!
The one downside (if you want to think of it that way) is that quality doesn't come cheap. Because Creema creators price their work fairly, based on the materials and the time spent creating, some of the items might be out of your budget. But if you think of it the other way, paying a higher price is worth it, since you're helping support an individual creator doing what they love!
Useful Features of Creema
Detailed Search Feature
From the Creema home page, click on "Product" to access the custom search feature.

With the custom search, you can specify any of the following options (from the top, left to right):
Main Category
Sub-category
Item Material
Price Range
Color
Free Domestic Shipping
Made-to-order Items
Giftwrap Available
Keyword
Using these search options, you can find exactly the item you're looking for! We especially like the option to search by the main material the item is made of, with 30 different options available! For someone like me, who's allergic to certain metals used in jewelry, this feature is so useful!
Item Customization
Many creators give customers the option to customize various aspects of their items, such as size and color. It's also common to see creators offering custom name engraving/embossing, especially on wallets and bags. 
If an item has options available, you'll see the various choices listed on the right-hand side of the page, under the Price.
Some creators also offer gift-wrapping and custom message cards to be included with your item, which is great if you're picking up an item as a gift!
Finally, when going through check-out, there's a comments section you can use to include any specific requests you might have for the creator.
Creator Reviews
The ability to see creator's reviews is one of the best parts of Creema, in my opinion! You can check a creator's reviews by clicking on the number of reviews, listed to the right of their star rating.
On the reviews page, you can read reviews from people who have actually bought that creator's items, and get a real idea of whether the items meet expectations, or if they fall a little flat. If you make sure to check the reviews before you order an item, you can rest easy knowing that you'll get what you pay for!
Where do I start?
Maybe you're the type who doesn't have a specific idea of what kind of item you're looking for. That's ok too! Here are a few places on Creema's site to get you started browsing items.
The Creator Ranking Page
The Creator Ranking page gives you a ranking of the most popular creators, both overall and within a set item category. This is a great place to start if you just want to test the waters and see what's being offered.
The Pick Up Section
The Pick Up section has a huge number of featured collections of items, like a top 100 items of the week feature, seasonal item features, and popular gift items!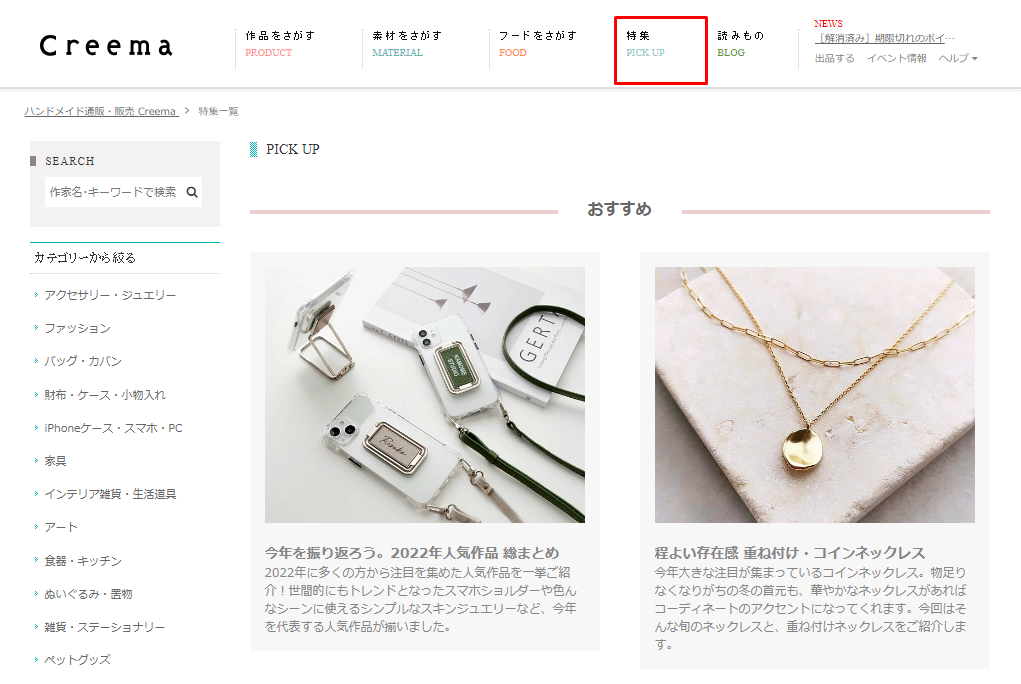 Creator Interviews
The Creator Interviews section can be found on Creema's Top Page, about ⅔ of the way down. This section features interviews of creators discussing their work, their inspirations, and their hopes for the future of their craft. It's definitely worth checking out!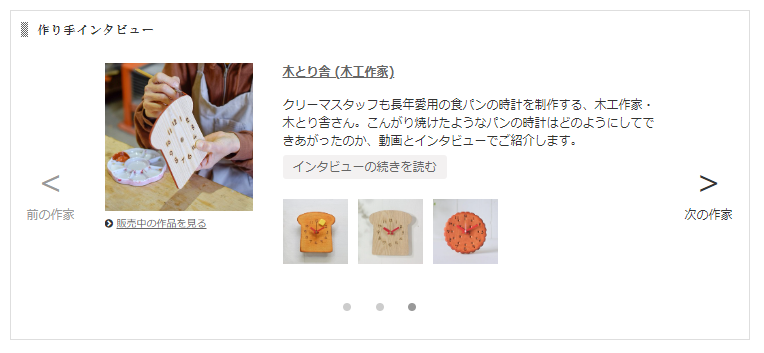 Some of Our Favorite Creators
Here are a few of our favorite creators on Creema!
Hair Accessories and Earrings by メノ工房 (Meno Kobo)
Meno Kobo's botanical inspired hair accessories and earrings are just to die for! Their work clearly draws on traditional Japanese kanzashi (hairpiece) designs, but each piece has a distinctly modern feel.
I'm particularly fond of this Red Spider Lily Hair Piece and this Lily of the Valley Hair Piece, since they're two of my favorite flowers.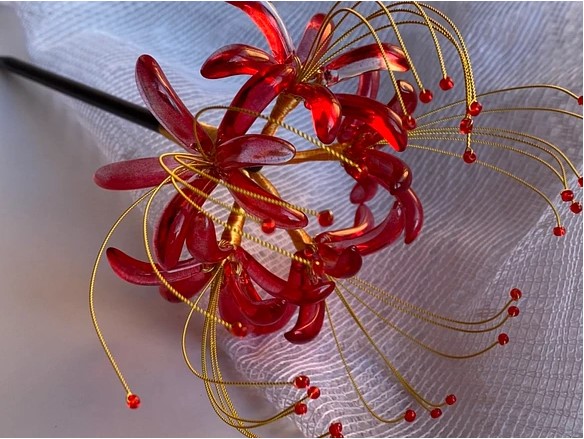 Meno Kobo's designs also draw inspiration from flowers and plants from all four seasons, so there's a piece for every occasion! For the high quality of the work, the prices are very affordable, starting at 500 JPY for some of the resin pieces, like these Sakura Hair Pins, and range up to around 5,000 JPY.
Heartwarming Clay Figures by okara.bo
Creator okara.bo's work can only be described as whimsical and charming. You just can't help but smile when you see one of their works, like this Shiba Inu Piggy Bank!
While their work is definitely kawaii-kei, it's not over the top, and still has a slightly muted naturalistic feel, since almost all of the colors they use are from the natural clay itself. In addition to cute animal-themed pieces, they also make beautiful flower vases!
My personal favorite item are these Java Sparrow Figures!
Okara.bo's work ranges from around 550 JPY for the smallest pieces, to around 13,000 JPY for some of the sets with more pieces.
Lively Bags and Pouches by chocho
These kinds of metal-clasped pouches (called gamakuchi, or "toad mouth" in Japanese) have been popular in Japan since the 1870's, and they're still widely used today! Chocho's handmade versions feature a wide variety of fun fabric patterns, ranging from the more traditional, like these Plum Blossom Patterned Clutch Purses,  to the completely modern, like these Ocean Sunfish Patterned Pouches!
Chocho also makes handbags that are larger versions of the classic gamakuchi pouch!
Chocho's pieces generally range between 900 JPY and 5500 JPY.
The Creem of the Crop
Handmade products are the ultimate way for you to express your unique sense of taste, and get a piece that's one of a kind! You can feel good knowing your money goes towards supporting an artist who's doing something they absolutely love.
Ready to dive in? Feel free to submit an order for any of the products featured here (or anything else) via our Request Form.
Not sure how to use our Request Form? Check out our Tutorial Article!
Have a question or comment? Shoot us an email at contact@dejapan.com, or leave a comment below! We'd love to hear from you!