5 More of our Favorite Sanrio Collaborations
Back in 2019, we wrote a blog article about 10 of our favorite Sanrio Collaborations. Well, it's been (almost) 4 years since then, and of course, Sanrio is still an absolute powerhouse in the realm of all things kawaii. A lot more collaborations have happened since the last article, so we thought we'd update you with 5 more of our favorite Sanrio Collaborations, 2023 edition!
Sanrio x Chiikawa
Chiikawa is a Twitter manga series by Nagano, who began the series in 2020. The series follows the daily life of a group of small adorable creatures as they go about their daily life.
Late in 2022, a collaboration between Sanrio and Chiikawa was announced, featuring two series of collaboration merch. The merch includes art by Nagano featuring the Chiikawa characters alongside Hello Kitty, Pom Pom Purin, My Melody, Kuromi, Cinnamoroll, and Hangyodon.
Check out all the merch, including stationery, T-shirts, accessories, and plush dolls on the Chiikawa Market online store!
Sanrio x Haikyu!!
Haikyu!! is a manga and anime series written and illustrated by Haruichi Furudate, originally running in Shonen Jump from 2012 to 2020. It follows the story of Shoyo Hinata as he joins his junior high school volleyball club, eventually aspiring to become a pro player. Haikyu!! continues to be popular today, with the release of two films marking the finale of the series in August 2022. 
This Sanrio collaboration is one of the most recent on this list, having been announced in December of 2022, with the collaboration beginning on January 20th, 2023. Due to the large cast of Haikyu!!, this collab utilizes a few of the lesser-known Sanrio characters, like We Are Dinosaurs! and Patapatapeppy. Each Haikyu!! character is paired with a Sanrio partner, making for some absolutely adorable duos!
You can find all the collaboration merch on the Toho Animation Store. It includes acrylic stands, stationery, mugs, and more!
Sanrio x Koupenchan
Koupenchan is a character created by Illustrator Rurutea in 2017. He's an adorable baby emperor penguin who recognizes that daily life can be hard, and that even small accomplishments deserve praise! His catchphrase is "えらい!" which means "Good job!" or "You did it!". He has a variety of arctic-themed friends, including a polar bear and an "evil" long tailed-tit.
Since his creation, there have been several Koupenchan manga books, children's books, game apps, and even music videos! (Seriously, do yourself a favor and watch that video.) Koupenchan is a character that just makes you feel warm and fuzzy inside, since you know he's always rooting for you!
This Sanrio collaboration is my personal favorite on this list, because the way Rurutea draws Pom Pom Purin just melts my heart! All of the Sanrio x Koupenchan merch can be found on the Koupenchan Online Store!
Sanrio x Sailor Moon
Who doesn't know Sailor Moon? Originally written as a serialized shoujo manga series between 1991 and 1997 by Naoko Takeuchi, it's earned its place as one of the most popular shoujo series ever. Since its creation, there have been two anime series, five movies, a live-action TV series, musicals, the list goes on.
Of course, that list obviously includes collaborations with Sanrio! The collaboration I'll focus on here took place in 2022 to celebrate Sailor Moon's 30th anniversary, but there's actually an upcoming one as well, set to take place in late April 2023. This collaboration features art of the Sanrio cast dressed up as Sailor senshi, to absolutely adorable results! Which pair is your favorite?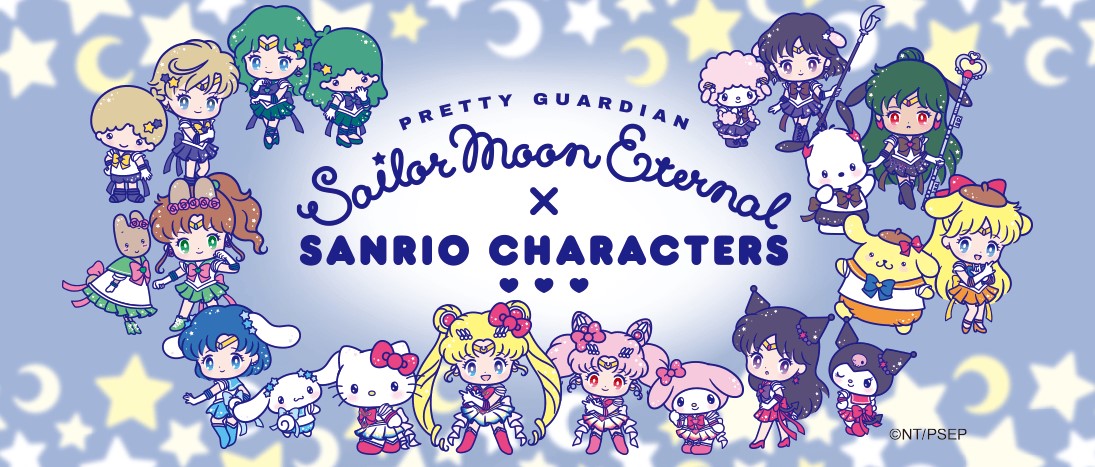 Since the reservation period for these collab goods is already over, your best bet for finding them is either on sites like Yahoo! Shopping, or on flea market sites like Rakuma!
Sanrio x Cardcaptor Sakura
Last but not least is Cardcaptor Sakura, which was a big part of my childhood! Written by Clamp, Cardcaptor Sakura originally ran in Nakayoshi magazine from 1996 to 2000, and was soon followed by an anime series, running from 1998 to 2000. It follows the story of Sakura Kinomoto, who accidentally releases the Clow Cards, a set of cards with magical powers. She must retrieve all of the cards with the help of the guardian of the cards, Kero-chan, and her best friend (and costume designer) Tomoyo.
Like most shoujo series, Cardcaptor Sakura is heavy on themes of friendship and working together, and features a variety of frilly costumes and dresses, making it the perfect series for a Sanrio collaboration! This collaboration took place in 2021, and featured original costumes for Sakura themed after each of the big 5 Sanrio characters (Hello Kitty, My Melody, Kuromi, Pom Pom Purin, and Cinnamoroll).
Like the Sailor Moon collaboration, the best place to find the collaboration goods would be on sites like Yahoo! Shopping or flea market sites like Rakuma!
Small Gift, Big Smile
And there you have it! Of course, these are only a few of the many Sanrio collaborations that have happened over the past 4 years. There have also been collaborations with My Hero Academia, Naruto, Mofusand, the list goes on! We're excited to see what the future holds for Sanrio, and you can be sure we'll be writing another updated collaboration list in another 4 or 5 years!
Feel free to submit an order for any of the products featured here (or anything else) via our Request Form.
Not sure how to use our Request Form? Check out our Tutorial Article!
Have a question or comment? Shoot us an email at contact@dejapan.com, or leave a comment below! We'd love to hear from you.