Introducing the New and Improved DEJAPAN!
Introduction
Hey DEJAPAN Fans!
We're so excited to announce that DEJAPAN is getting a major makeover! We've been secretly working really hard over the last year to get this ready, and we're finally ready to unveil the results!
Our brand-new upgraded site goes live on August 1st, 2023!
So what can you expect from the new site? Read on to find out about all of the new features, get a sneak peek at the new site, and find out about our DEJAPAN Renewal Festival event!
New Store Search Features
The first thing you'll notice on our new site is that we now offer the ability to bid on and purchase items from the following stores directly on DEJAPAN!
Searchable Stores
Description

Yahoo! Auctions
– Yahoo! Auctions is an auction service provided by Yahoo! Japan.
– You can bid on a huge variety of items, including rare items you'd never find in stores!



★Rakuten
– Rakuten is one of Japan's most popular online shopping malls, with over 56,000 different stores to browse!

★Fril/Rakuma
– Rakuma (also called Fril) is a flea market site operated by Rakuten.
– It's a popular place to buy and sell all kinds of items, but it's best known for fashion goods like shoes, clothes, and cosmetics!



★Suruga-ya
– Suruga-ya is one of the biggest retailers of new and used anime, game, and hobby items in Japan, both on and offline!
– You can find new and used figures, toys, games, model kits, trading cards, and more!

★Yahoo! Shopping
– Yahoo! Shopping is another one of Japan's largest online shopping malls.
– You might find items listed on Yahoo! Shopping that you won't find anywhere else!

★Mercari
– Mercari is the largest flea market site in Japan, with over 3 BILLION items bought and sold to date!
– You can find absolutely everything on Mercari, both new and used! It's the perfect place to search for that rare piece you're looking for.
★=Newly available directly on DEJAPAN
You have the option of searching all 5 stores at once with the "All Shops" option, or searching within a specific store by selecting the button next to that store's icon!
If you're using the desktop version of our site, you also have the option to search within a specific category. Just choose the category you'd like to search from the dropdown menu on the left side of the search bar and enter your search term!
You can also choose a category after you search by using the category list on the left side of the search results page.
It's never been easier to search for items from some of the BIGGEST Japanese online retailers with DEJAPAN, so be sure to try it out!
Official Mercari Partnership
As you may have noticed from the previous section, we are now officially partnered with Mercari!
This means we can offer the Mercari search function right on DEJAPAN, and we have a shiny new official Mercari account!
This also means that we have now lowered the 500 JPY per URL Mercari transaction fee to 200 JPY per URL!!
We've added a warning about this fee to each Mercari item page, so from now on, we won't email first-time Mercari users to check that they're aware of the fee.
New Request Form
Of course, you aren't limited to only the stores with items listed on our site! We've also given an upgrade to the Request Service!
To access the new Request Service, just click on the "Request Service" button on the right side of the search bar header.
The biggest improvement we made to the new request form is that it's now partially automated! Just enter the URL for the item page, and the request form will automatically pull as much data as it can from the page, including the Item Name, an Item Image, and the Item Price!
Due to differences in the way some sites are built, it can't pull ALL of the info for every site, so sometimes you'll still need to input some info yourself. The good thing is that the info you need to add yourself will be highlighted in red, like the image above, so you won't miss it!
One important thing to note is that request form items can only be added to your cart one at a time, but you can now add items from multiple websites to your cart for checkout at a later time! Keep reading to learn about our new Shopping Cart and Checkout Process!
New Shopping Cart and Checkout Process
Our new Shopping Cart is super smart!
For items from Rakuten, Rakuma/Fril, Yahoo! Shopping, and Mercari, items are sorted into sub-carts depending on the individual seller that listed the items. This is because payment must be made separately for each seller.
Request form items are sorted into groups for each website, based on the URL.
This way, you can add as many items to your cart as you want, and choose a group to move to checkout at any point!
For Mercari, Rakuma/Fril, and the PayPay Flea Market, the maximum number of items you can move to checkout at one time is 10. For every other site, the maximum is 20. This helps ensure your order is processed correctly and in a timely manner!
New Consolidation System
You may have noticed that during your 1st payment checkout, you no longer have the option to select the Consolidation Plan. We've streamlined the process a bit, and here's how the new system works!
You'll now be required to request consolidation for all orders, regardless of how many URLs are contained within each order.
If you consolidate a single order containing a single Item URL into a parcel for international shipment, you won't be charged a Consolidation Fee.
If you consolidate multiple Item URLs into a parcel, you'll be charged 100 JPY per URL for consolidation.
We realize this may not be 100% intuitive, so feel free to ask us questions about this if there's anything you don't understand!
Updated Packing Options
We've also updated our packing options to be slightly easier to understand!
Instead of 4 options, there are now only two: As-is and Protective.
The As-is Option is our standard 0 JPY option. Our packing team will use packing material as they see necessary to protect your items. For example, a parcel full of only T-shirts will have very little packing material, but a parcel with fragile figures will have significantly more.
The Protective Packing Option, which will still cost 1,000 JPY, is for parcels you think need some extra protection, just in case! Our packing team will make sure your items are super well protected with extra packing material, and even an extra outer box for certain items.
International Shipping Estimator
The International Shipping Estimator is back!
If you'd like to estimate how much it might cost to ship your items internationally, just click on the Quick Menu in the bottom right corner!
All you need to do is enter your shipping country, the weight of your parcel, and how large you think the parcel will be. Then just hit the Estimate button, and you'll see a list of available shipping options and how much they'll cost.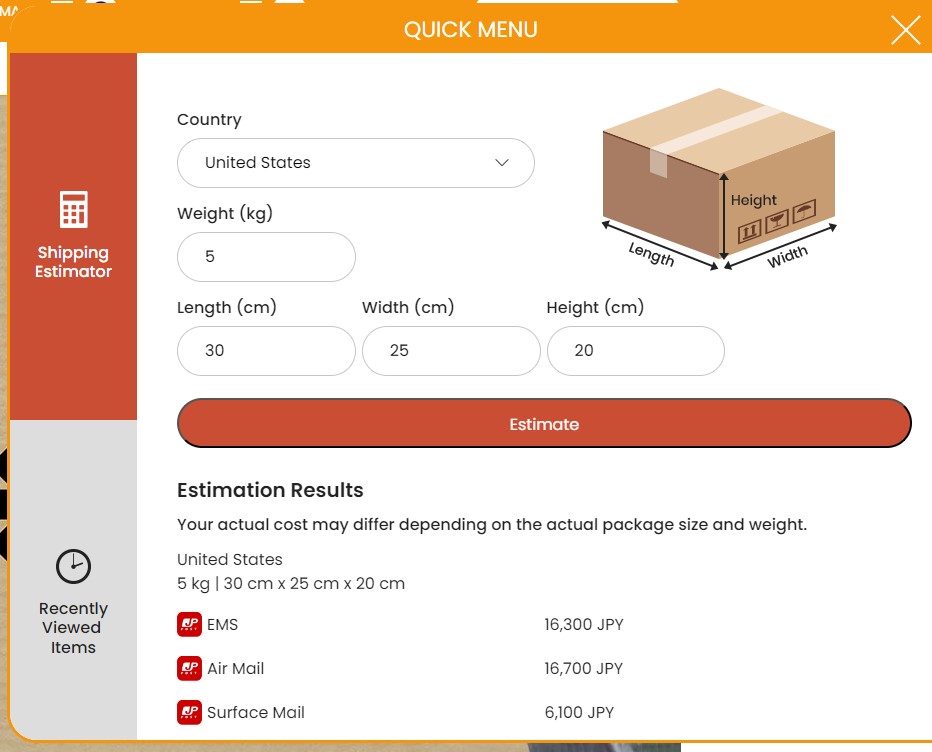 Filling in the size is optional, but it's best to enter it to make sure your parcel doesn't exceed the size limits for any of the available options. If it does, the shipping estimator will prompt you to contact the Customer Service team to get a shipping quote.
If you'd like an estimate for DHL, FedEx, or International ePacket, you'll need to contact customer support. We hope to get these options added to the Estimator soon!
News & Announcements Section
Finally, we've added a News & Announcements section to the Front Page! This is the place to check for important service updates, holiday announcements, promotional info, and more!
Just in case you don't check the Front Page very often, we've also added a scrolling headline section to the new My Page, where you can see the most recent news, and any announcements we think are super important.
Be sure to check it out!
The DEJAPAN Renewal Festival
To celebrate the launch of the new and improved DEJAPAN, we're running a HUGE event, called the DEJAPAN Renewal Festival! This event is chock-full of awesome promotions and opportunities for our customers to win super cool prizes and DEJ points!
There are too many great promotions to talk about here, so be sure to check out our DEJAPAN Renewal Festival article for all the details!
What Do You Think?
We really hope you like our new upgraded site! Everyone at DEJAPAN has worked hard to bring you the best user experience and the best service we can.
We want to know what you think of the new site! What do you like? What would be more convenient or easy to use? We want to hear it all!
That's why we're running a Feedback Questionnaire the whole month of August, giving you plenty of time to try out the new site and get a feel for it. Out of those who submit the questionnaire, 100 people will be chosen randomly to receive 200 DEJ Points!
We would really appreciate your feedback, so we can keep improving the site for you!
If you have any questions about the new site, don't hesitate to email us at contact@dejapan.com, leave a comment below, or DM us on Twitter or Facebook! We'll be happy to help!