The Top 10 Must-Have New Products Featured at Osaka Stationery Expo 2022
The Bunshi Messe, or Stationery Expo has been happening in Japan since 2004. After two years of being held online due to you-know-what, it's finally back to happening in person! At least partially.
This year the expo was only open physically for two days, August 2nd and 3rd, but was open in an online format all the way from July 1st through to August 31st.
70 different Japanese stationery companies participated in the expo, and they all introduced some awesome new products. Some are cute, some are cool, some are boring but undeniably practical.
I've pored over them all, and come up with the definitive list of the top 10 must-have new products introduced at Osaka Stationery Expo 2022. Without further ado…
#10 – Zebra's Sarasa Nano Pens
Those of us with small handwriting know – fine point pens are a must. But the problem with super fine-point pens is that their tips can be so fine that they end up scratchy! The ink flow gets interrupted, and it's an overall unpleasant experience.
Zebra claims to have solved this problem with the Sarasa Nano Pen, their new ultra-fine point 0.3 mm pen. By inserting a spring cushion in the top part of the pen, they claim that all the scratchiness is absorbed, and the ink flows freely.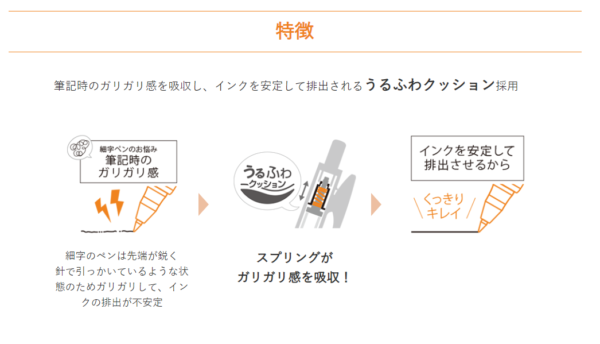 Now personally, I'm a sucker for Sarasa pens. They're super comfortable to write with, and the ink does flow effortlessly. I'll be super excited to try these out, as I've never found an ultra-fine point pen that hasn't been scratchy.
Sarasa Nano Pens come individually in 32 different colors, and are also offered in 5 different 4-color sets.
For more info, check out the Sarasa Nano page on Zebra's website.
#9 – Kutsuwa's Miffy Light Color Series
For those that don't know, Miffy is an adorable little rabbit first introduced in 1955 by Dick Bruna in his storybook, Miffy, Miffy at the Zoo. Since then she's become a sensation around the world, with her simple yet charming design. She's especially popular in Japan, where her likeness can be found on just about anything you could think of.
Following this trend, Kutsuwa has released an entire new line of Miffy stationery, called the Miffy Light Color series. The series features calming neutral colors, and, of course, Miffy being her adorable self.
The series includes:
I'm particularly like the ballpoint pens, since they come with both black ink and red ink, each one controlled with one of Miffy's ears! Too cute.
Be sure to check out Kutsuwa's entire lineup of Miffy stationery!
#8 – Fueki-kun Mascot Stationery
What is THAT?
His name is Fueki-kun, and he's my best friend.
Fueki-kun is an absolute Showa-era icon. He was introduced in 1975 (Showa 50) as part of a set of kid-friendly craft glue pots, and quickly became the favorite out of the bunch. Kids today still use the same glue pots, with their instantly recognizable red hat lids.
The generation that first grew up with Fueki-kun clearly never forgot him, because he's now available as all kinds of stationery, with a whole new line being introduced at the Stationery Expo this year!
The line includes:
My personal favorite are the Mini Croquis books, the Fueki-kun art on the covers is TOO cute!
These items are set to release starting in Autumn of 2022, so keep your eyes peeled on the Fueki Web Shop!
Get more great Fueki-kun content (including coloring pages!) on the Fueki Website.
#7 – Culicule's Twistable Colored Pencils
Do you guys remember Crayola Twistables? They were my absolute JAM in elementary school. Culicule's new Twistable Colored Pencils are like the classy, grown up version of Crayola Twistables.
The company boasts that these colored pencils don't bleed through or show on the other side of the page, so they're perfect to use in your planner, calendar, or for taking notes.
The entire line-up features 18 colors, available in tonal 3-packs with super cute names, like "Pink pink pink" and "Pastel sugar". Personally, I like blues and greens, so my favorite pack is "Lalala aurora". Let us know which pack you like in the comments below!
#6 – Zebra's New Mildliner Colors
Like highlighting things but hate having your eyes melted out of their sockets by the bright colors? Mildliner's got you covered!
Ok, ok, so Mildliners aren't technically a brand new product. What's new here is that Zebra introduced 10 new colors in the Mildliner series, bringing the grand total available up to 35 colors.
The soft colors are perfect for helping you keep your focus on what you're highlighting without making you feel like you've just come out of a rave. The standard dual tip (chisel tip and fine point) pens are great for taking notes, while the Mildliner Brush series are great for art and bullet journalling. Personally, I use Mildliners all the time at home for marking cross stitch patterns!
Check out all the available colors on Zebra's Mildliner Page.
#5 – Lion's Haniwa Finger Cots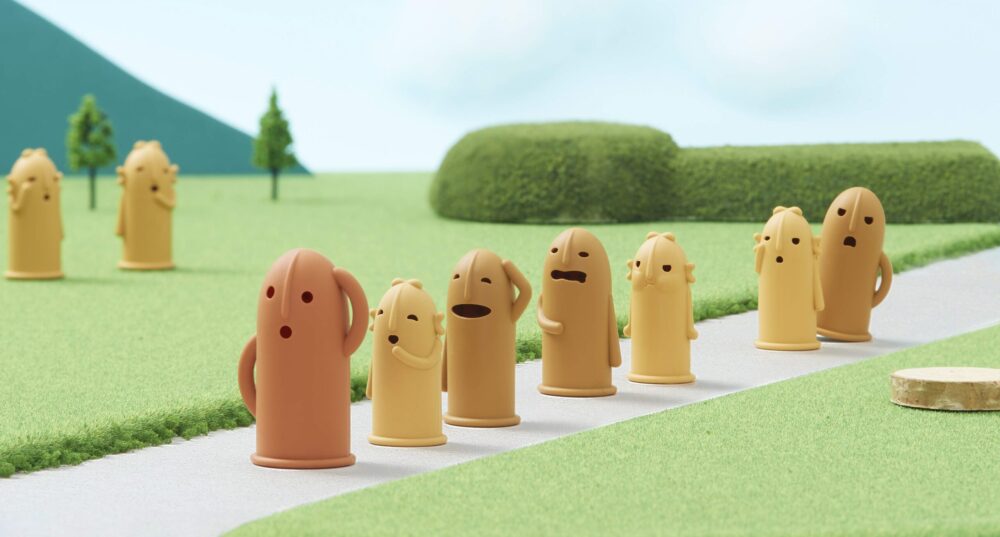 What's a finger cot? What's a haniwa?
I hear you barking, big dog.
First, the word 埴輪 (haniwa) refers to terra cotta figures that were made during the Kofun Period (300 to 538 AD), for ritual use. They were commonly buried in tombs with the deceased. They can be shaped like almost anything, with examples found in the shapes of horses, birds, fish, houses, shields, and humans.
The classic shape that Japanese people think of when you say haniwa is these guys, called the "Dancing People":
Fun fact: the gyroids from Animal Crossing? Yeah, those are called haniwa in the Japanese version! They're based directly on these guys!
Easy to see the resemblance, right?
Anyway, on to finger cots. Basically, finger cots are like gloves, but only for your fingers. People who work in offices use them to easily flick through stacks of paper without having to lick your fingers or have your fingers get dried out by the paper.
I was skeptical about using finger cots, but let me tell you, once I tried them? I'll never go back. They make it so easy to deal with big stacks of paper and documents!
There are 6 different sets of Haniwa Finger Cots to choose from including one large and one medium finger cot. They come in a variety of expressions and poses. My favorite are the hungry ones!
There's also an extra-large size available, for those of you with big fingers (can't relate!)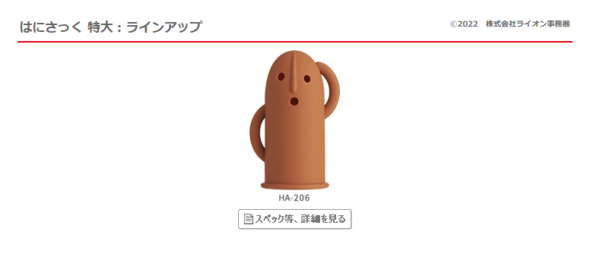 Seriously, work is so fun with little friends on your fingers, give it a try!
#4 – Guitar's Petite Pens
When you were in school, was there always That One Girl in your class who took super pretty color-coded notes with 50 different pens?
There was in my school. She was me.
Seeing these Guitar Petite Pens flashed me right back to my intro biology courses in college, wishing I had more color options in my pen set.
These Guitar Petite Pens come in 27 different colors, and have a tiny 0.3mm tip, so they're perfect for taking detailed notes, writing cards, or just for doodling! They're also super-slim, so you can carry a TON with you at once.
Currently, you can buy these pens in tonal sets of 3 matching colors, or as packs of 10 of an individual color.
If you wanna go absolutely insane, you can also buy an entire store display set, too! Go on. We dare you.
#3 – Kokuyo's Campus Half-size Notebooks
It happens to me all the time. I think, "Oh, I'll go to the nice cafe down the road to get some work done!"
I go to the cafe, I get my drink, set up my laptop on the table, and…
There's NO room on the table for both my laptop AND my notebook. A frustrating hour and a half of juggling the two ensues. I leave, more pissed off than relaxed and accomplished.
Yeah, those little frustration squiggles don't even begin to describe it.
I'm sure it's happened to you, too! Kokuyo thinks they have the solution in their new Half-size Notebooks.
The notebooks are half of the standard B5 notebook size, and are designed to fit perfectly in front of a laptop on a desk or small table. Honestly, when I first saw these, it was like a lightbulb went on in my head. Who says notebooks have to be more vertical than horizontal?! No one, that's who.
The new lineup comes in two paper styles, the Campus standard dot line paper, and Japanese style 5mm grid paper.
I'm already a huge fan of Campus notebooks, and I think their paper is some of the smoothest and best to write on, so I'll definitely be picking one or two of these up next time I'm stationery shopping!
#2 – Kutsuwa's Majikeshi Magnetic Eraser
Ok, this is straight up the coolest eraser I've ever seen.
Cleaning up eraser shaving is annoying, right? Well no more, because with the Majikeshi, you can pick up all the eraser shavings in a snap with the built-in magnet, then deposit them in the case for later disposal.
At first, I was sure this was just a marketing gimmick that would never ACTUALLY work, but then I watched the video:
First of all, how did they make an eraser magnetic???
Second of all, who thought of this?
Give them a Nobel prize.
This is exactly the kind of innovation that we've come to love and expect from Japan.
The Majikeshi case comes in 8 different colors, and replacement erasers are also available!
#1 – Max's Shark Stapler
Finally, we come to the end of the list. The number one coolest new stationery supply introduced at the Stationery Expo 2022. Without further ado, drum roll please…..
What? You already saw the item name above? Oh, right.
It's a stapler shaped like a shark with a matching staple refill case!
What, you're underwhelmed? Come on, look at it! Every time you staple a stack of paper it's like he's eating your work! Chomp chomp.
The company even has their own Instagram Account where they document the adventures of the shark stapler and his friends.

How cute is that?
Ok, I may be a bit biased because I love animals so much, but they also have an entire line of other animal staplers too!
In Summary…
Here's a neat little table summarizing my top picks from this year's Stationery Expo!
Ranking
Item Name
Image
Price
#1
Max's Shark Stapler
1760 JPY for the stapler
825 JPY for the staple case
#2
Kutsuwa's Majikeshi Magnetic Eraser
500 JPY for the inial set
150 JPY replacement erasers
#3
Kokuyo's Campus Half-size Notebooks
130 JPY per notebook
#4
Guitar's Petite Pens
132 JPY per pen
396 JPY for a set of 3
#5
Lion's Haniwa Finger Cots
450 JPY for the Large/Medium Set
300 JPY for the single Extra Large
#6
Zebra's New Mildliner Colors
110 JPY per pen
#7
Culicule's Twistable Colored Pencils
400 JPY for a set of 3
#8
Fueki-kun Mascot Stationery
From 330 JPY to 495 JPY each
#9
Kutsuwa's Miffy Light Color Series
From 350 to 1500 JPY each
#10
Zebra's Sarasa Nano Pens
220 JPY for one,
880 JPY for a set of 4
This is just a small fraction of all the great new stuff introduced, though! If you're interested, be sure to check out ALL the new products that were introduced!
Got the itch to do some shopping? Feel free to submit an order via our Request Form!
Got a question? Feel free to leave a comment down below or shoot us an email at contact@dejapan.com!